WhatsApp is at the centre of a recent controversy, which has seen a public outcry over the Facebook-owned company's recently updated terms and privacy policy. Part of the issue comes down to the new terms that focus on integration between the chat app and the rest of Facebook's family of apps (Instagram, Facebook, Messenger), with the updated clauses allowing for more data sharing between them.
This also opens up the unwanted possibility of Facebook ads within WhatsApp, while others have worried about the effect that the new terms might have on their private chats and user data in general. WhatsApp, for their part, have responded with a number of statements to assure users that their private messages are, indeed, still private.
This hasn't really had the desired effect, however, with a mass exodus from the platform evidenced by a huge spike in numbers for alternatives such as Telegram. Now, the Facebook-owned company has announced that the new update will be delayed by just over three months—until the 15th of May 2021. This is supposedly to give users time to understand the terms, while they attempt to clear up some of the controversy.
This hasn't stopped users from considering alternatives to the popular messaging app, however. But are these options safer than WhatsApp? Should you really make that jump? That's what we're here to find out today. Let's take a look at four widely-used messaging apps that could be a viable, and more privacy-focused alternative to WhatsApp.
1. Telegram
Telegram has long advocated itself as the more secure alternative to WhatsApp. Back in 2019, the founder, Pavel Durov, warned users that they should delete WhatsApp from their phones to protect the privacy of their messages and pictures/videos. Technically, that ominous statement was not related to the current terms/policy issue, but Durov's warning was based on Facebook's alleged (yet unproven) links with government surveillance agencies.
Largely thanks to WhatsApp's current privacy issue, Telegram has now seen a spike in numbers: 500 million users in total, with 25 million signups coming during a 72-hour period in January 2021. It makes a lot of sense—Telegram is perhaps one of the closest alternatives to WhatsApp in terms of functionality, with a similar interface that's pretty easy to get used to.
You get a range of useful extra features on Telegram, too. For one, users can set certain messages to self-destruct after a set amount of time—much like WhatsApp's recently-launched disappearing messages feature. Meanwhile, Telegram also syncs all messages and content across multiple devices (including computers), which is a popular and easy way to transfer files of up to 2GB.
However, it's worth noting that your chats on Telegram are not protected by end-to-end encryption, at least, not by default. This encryption basically prevents any party (even Telegram), besides the sender and recipient, from viewing the contents of the message. However, only "secret chats" use this encryption method, according to the company's privacy policy; Private and Public Chats are not.
Telegram also collects data that is linked to your identity—contact info, contacts, and identifiers—for "app functionality". This is pretty standard, but keep in mind as a general rule of thumb: the less information collected, the more privacy you get.
That aside, Telegram has a wide range of functionality, and the app syncs across multiple platforms: desktop apps, mobile, and browsers. Plus, it's free to use.
2. Signal
Signal is another app that has seen a rise in users ever since WhatsApp (or rather, Facebook) got themselves mired in controversy. In fact, new signups grew at such an aggressive rate that the Signal app suffered a two-day outage, with over a thousand users reporting errors when sending messages over the platform recently.
In case you missed it, Signal was also recently endorsed by the likes of Edward Snowden, and even Tesla CEO Elon Musk and the CEO of Twitter, Jack Dorsey—all prominent figures in the tech industry. Putting those glowing endorsements aside, Signal's status as one of the main alternatives to WhatsApp is mainly down to its privacy and security assurances.
For one, end-to-end encryption is standard for all messages sent on the platform. Signal is also built on open source code, which means that there is less potential for hidden vulnerabilities. Let me explain this: for platforms built on closed source code (such as WhatsApp), security loopholes are sometimes only discovered after they've been exploited, or if they have been preemptively spotted by internal testers.
For open source platforms, anyone can see what's going on, which means that specialists can, and will take a look at what's really going on. In essence, it's more transparent, and it can also be more secure.
Some interesting points to note: Signal's encryption protocol is also used by WhatsApp for end-to-end encryption of its messages. Also, if you plan to use Signal across multiple platforms or on your PC, the app only supports "linked devices"—which is essentially just an extension of your primary device, just like WhatsApp Web.
Signal also collects the least amount of data compared to the others in this list, according to its App Store listing. The only information being collected is contact info (for app functionality)—which is not linked to your identity.
3. iMessage
If you're on iOS, this is an app that's already pre-loaded onto your iPhone… and you can't actually delete the app. So, why not use it? iMessage has a bunch of features, and if you're in an Apple Pay-supported region, it comes with useful integration with Apple's in-house messaging app.
There are also customisable memojis that you can use to send cute voice messages with. I understand that we're all here to talk about security and privacy, but I'm just putting it out there: I love using memojis. Plus, iMessage also works with your text messages—if you still communicate via SMS, that is.
Data linked to you includes your contact information, as well as identifiers and search history, while location and diagnostic data are collected, but not linked to your identity. In any case, iMessage also protects all of your conversations with end-to-end encryption, and the company promises:
There is, of course, one big caveat to this. iMessage is only supported on iOS. Which also means that cross-platform sync is only limited to your iPhone, iPad, iPod Touch, and Mac. Sorry, Windows users.
4. Threema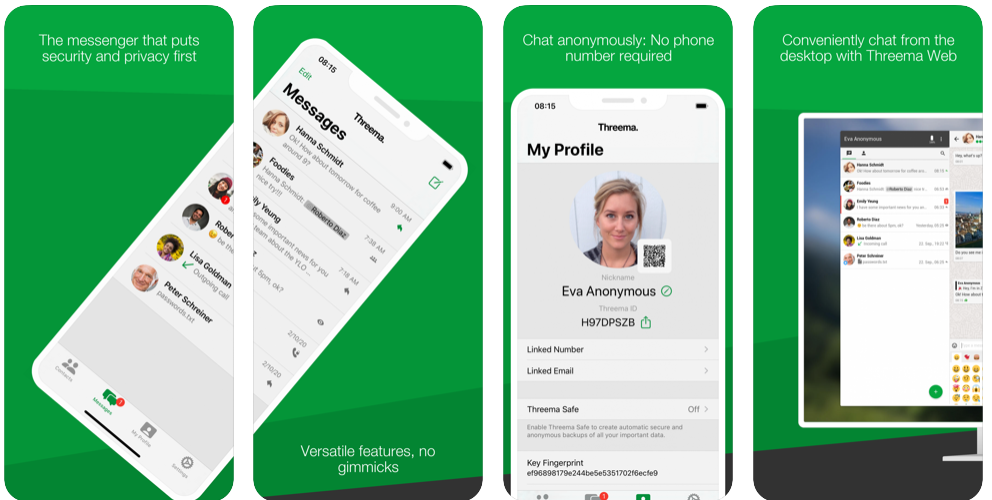 If the idea of keeping your information private is important to you—and let's be real, it is to all of us—Threema is an encrypted messaging app that does things a little differently. There are a couple of factors that differentiate Threema from apps like WhatsApp, Signal, and Telegram.
For one, users register with anonymous IDs, which are not tied to any phone numbers. You can also use Threema on a phone without a SIM card, and technically, you don't even need a phone number at all. Arguably, this level of anonymity can also carry a degree of risk—for both senders and recipients of messages.
You can, of course, still connect your account with a phone number, or you can simply use a scannable QR code for others to add you—no names, no information necessary. Plus, Threema is also built on open source code, just like Signal, and "all communication" that happens on the platform is end-to-end encrypted.
There is a catch (or two), however. Threema charges a one-time fee for the app: RM12.99 for Android devices, and RM12.90 for iOS devices. Additionally, only one device per ID is supported on Threema, which means that you won't have the same cross-platform compatibility that you'd get on Telegram.
You should also note that the App Store states that the following data may be collected and linked to your identity: contact info and identifiers. Diagnostic data is also collected (as per the norm), although this data is not linked to your identity.
What about WeChat, Line, and others?
There is a huge variety of options out there, and this list is by no means an exhaustive list of every messaging app you can find. Some, such as Silent Phone, offer a lot of security features, but they're mostly aimed towards enterprises—which means that you probably won't find too many of your personal friends on those apps.
Meanwhile, WeChat reportedly boasts over a billion monthly users around the world, and the app forms part of an impressive ecosystem that includes e-commerce, fund transfers, and more. However, most of those features aren't available in Malaysia, or many countries around the world.
You could also make a strong case for options like Discord, which started out as a gamer-focused chat service, although it has now morphed into a do-it-all communications app. It's still not a direct alternative to WhatsApp, I'd argue, although you could theoretically use it as your main messaging app.
Ultimately, there are three main factors to consider, in my opinion: security, price, and the number of users already on the platform. Obviously, making the jump over from WhatsApp, the go-to messaging app for many years, is going to be difficult for most of us.
But when it comes to the current situation, the question you have to ask yourself is this: Do you want your data—not necessarily your private messages, which are still end-to-end encrypted on WhatsApp—to be shared with a huge, global conglomerate like Facebook?
Probably not. I'm generally a very private person, which is why I'm personally installing Signal, and inviting a bunch of friends along. It's open source, it has end-to-end encryption for all app communication, it's free to use, and best of all—your data won't be shared with a big conglomerate that will do who knows what with all that information.
And when it comes to privacy, it's pretty reassuring to know that your messages are protected by an encryption protocol that is so well-regarded, that it is used by a popular, global (and rival) messaging app like WhatsApp. Plus, as we mentioned above, Signal collects the least "data linked to you", according to the App Store. In comparison, WhatsApp appears to collect the most identity-linked data