1. Tiger Balm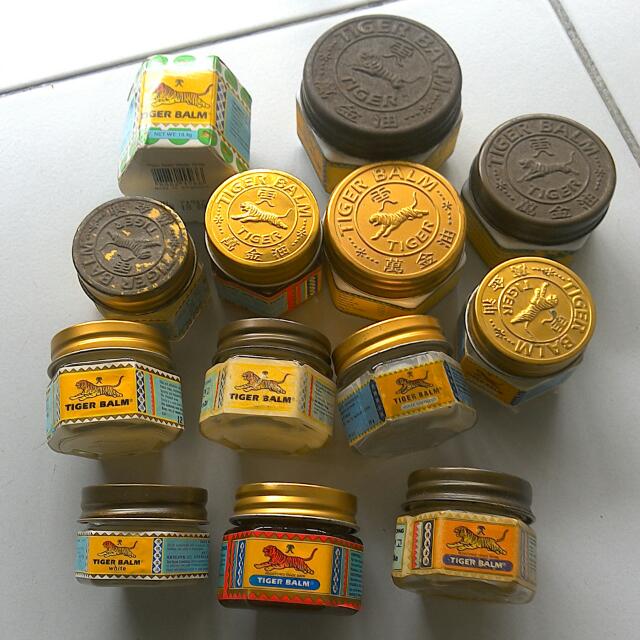 Tiger Balm was and is still probably one of the most common ointments found in Asian households.
Whether you had a headache, stomach ache, or were coming down with a cold, Asian grandmas and mothers would most likely have rubbed this sweet, minty ointment all over your body.
It was made by a herbalist who migrated to Myanmar from South China to open an apothecary. After he passed away, two of his sons took the product to Singapore in 1926, set up a factory, and the rest is history.
If you've lived on Earth long enough, you may also remember its previous vintage tin:
2. Scott's Emulsion
There were two types of kids: those who loved Scott's Emulsion and those who hated it.
If and when you were 'old' enough, you may have progressed to take the bouncy cod liver oil pills instead, which until today look like translucent jellybeans.
I definitely had a love-hate relationship with Scott's Emulsion. But I'd like to believe it's contributed to years of shiny hair and will probably force my kids to take it too. 😛
Check out this cool old Scott's Emulsion advertisement you might recall watching when the bottles were made of glass:
3. Po Chai pills
Po Chai pills were the ultimate 'cure' for all sicknesses. Got fever? Got diarrhoea? Faster take. Motion sickness or vomiting? These pills were the answer.

Several years ago, there was a slight controversy in regards to the pills. But it turned out that banned substances were only found in the capsules (which were removed from the market in 2010) and not the pills.

In conclusion, Po Chai pills are safe for consumption and are still sold today.
4. Snake Brand Prickly Heat Cooling Powder
This 'cooling powder' has been around for more than 60 years and can still be found in many sundry shops and pharmacies today. It's meant to relieve itchiness from heat rash and keep you feeling fresh, especially on hot days.
The powder has a classic version with a fresh scent and a lavender-scented type. It was created in 1947 and the cool part is that the packaging hasn't changed much since then. It still comes in the iconic rectangular metal tin. 
If you look closely, you'll notice that the logo is a snake with an arrow. According to its website, the snake represents 'sickness' while the arrow is meant to be the 'cure'.
5. Chi Kit Teck Aun pills
Not to be mistaken for Po Chai pills, you might have taken Tek Aun pills whenever you had a tummy ache or gastric issues. You can still find them at pharmacies and sundry shops today.

According to The Star, these herbal pills have been popular for years, dating back to the 1920s and 1930s when they were consumed by rubber tappers, farmers, and tin miners.

The Tek Aun business boomed during the Japanese occupation when people were only allowed to stock up on goods during curfews. So, they'd mainly buy food and medicine – and because Tek Aun pills were kept at affordable prices, it was found in almost every house.

In 1999, the Teck Aun Medical Factory even made it to the Malaysia Book of Records as the largest traditional herbal medicine manufacturer in Malaysia!
6. Zam-Buk
Many believe that Zam-Buk was created in South Africa, as it's a household staple in homes there. However, apparently, it was founded by Charles Edward Fulford from Leeds, England, while the name is believed to have derived from South Africa. There's not much information on this though.

The traditional antiseptic ointment is used to soothe cuts, bruises, and chapped skin. Or you may have been like me and used it on mosquito bites. Love the smell.

Users might agree that although the medicine works wonders, Zam-Buk's tin is probably one of the most challenging packagings to open. 
A South African guy even went viral in 2018 to show his frustration: 
7. Nin Jiom Pei Pa Koa or Ubat Batuk Cap Ibu Dan Anak
You've surely spotted Pei Pa Koa, also known as Ubat Batuk Cap Ibu Dan Anak in Malaysia. It's so popular in the Asian community that Malaysians have even mixed it into cocktail drinks and ice cream in recent years.

The sore throat / cough medicine originated in Hong Kong and was brought to Southeast Asian markets in the late 1970s. But it's been around for way longer than that, dating back to the Qing Dynasty more than 400 years ago.

There's quite an interesting story behind its name 'Ubat Batuk Cap Ibu Dan Anak', which stems from the love of a son for his sick mother. 
8. Vicks VapoRub
Vicks was first sold in 1905 and was later renamed to VapoRub. According to its website, it was created by Lunsford Richardson who came up with the salve to soothe his sick son's severe cough.

His son soon recovered from croup, took over the business, and sold it in the iconic blue jars we know of today.

Growing up, you might remember seeing Vicks come in small, blue glass jars with a metal cap. However, they have since expanded their range and most of them are now packaged in plastic.

Did you know that you can put one or two teaspoons of Vicks VapoRub into a bowl of hot water and inhale the steam to clear any nose congestion? Just be careful to not go overboard with it though.
9. Yoko Yoko
As a kid, I remember my mum always asking me to help her apply Yoko Yoko for her backaches and stiff shoulders. Made in Japan, the ointment is meant to relieve muscle and joint pains.

Unlike the other traditional medicines, it's not considered as 'old' but its packaging, with the little bent bottle and blue sponge, was definitely one of the more unique ones in the market back then. It still exists till today.
10. Minyak Angin Cap Kapak
Ask any Malaysian and they probably have a bottle of Minyak Angin Cap Kapak lying around somewhere. Next to Vicks and Tiger Balm, these were lifesavers for headaches or whenever we had a cold or flu as kids. Cleared all that snot up!
Plus, how cute are the little bottles? Cap Kapak's distinct smell is one that will surely live on even when we've grown old.
11. Mopiko

Originating from Japan, Mopiko is another ointment that has been around for decades. People usually use it to relieve itchiness from mosquito or insect bites, but there are some who use it for temporary muscle aches. 

What you may not have known though is that it isn't just a healthcare product. But it's actually an authorised medicinal product.
12. Bonjela
After getting scolded by parents for not drinking enough water, applying cold Bonjela to a painful ulcer was the best feeling in the world. 

It's probably still one of the best remedies for mouth ulcers. I remember trying to avoid licking it up in case of needing to re-apply it and getting scolded again. Heh.
13. Yu Yee Oil or Cap Limau
Yu Yee Oil is another herbal remedy that many use for muscle and joint aches. Some also use it on babies when they have trapped gas or wind. 

One thing is for sure, when someone uses it in the room, you can immediately smell the herbal, peppermint scent, which will bring you back in time. 
14. Salonpas
One of the best 'cures' for muscle aches and backaches, these plasters are still considered a staple in many households today. If you aren't careful, it can be pretty addictive to use too.

Salonpas patches were created in 1934 by the Japanese company Hisamitsu Pharmaceutical Co. The plasters give off a cooling sensation that provides temporary relief for any aches and inflammation. And boy, do they feel good! Except maybe for the peeling off part when it traps little hairs. 😛

The older we get, the more our parents needing to use these patches make sense, amiright? :')
15. Counterpain
Yet another pain reliever, these tubes have been around since 1974 and are especially popular in Asian countries like Malaysia, Thailand, and Indonesia. 

Originating from Japan, Counterpain is also used as temporary relief for chronic backaches and pain. 
This article was first published in Says.