During the launch of the Mi 11 flagship smartphone, Xiaomi Malaysia has announced 3 new addition to its home ecosystem lineup. This include the Mi Vacuum Cleaner G10, the Ionic Hair Dryer H300 and the Mi 360-degree Home Security Camera 2K.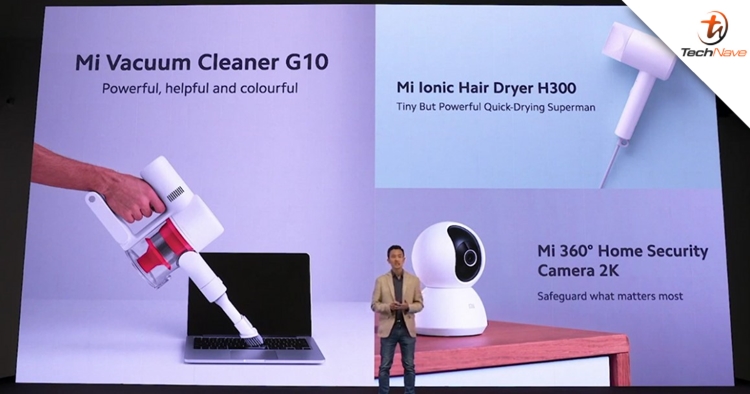 Mi Vacuum Cleaner G10
Xiaomi's latest cordless vacuum cleaner is the G10 which looks like a Dyson clone. It boasts a newer motor that spins at 125,000RPM and it claims to offer a maximum of 150 air watts of suction power, which is 25% more than its previous generation. It offers four power modes – eco, standard, max and auto.
On a single charge, the detachable battery offers up to 65 minutes of running time. On standard mode, you'll get 30 minutes of run time and on max mode, it is limited to just 10 minutes. A full charge takes 3.5 hours and you can replace the battery with a spare with its click-in design.
The Vacuum Cleaner G10 gets a 0.6L detachable bin that comes with a one-click emptying mechanism. It also gets a HEPA filter with a claimed 99.97% filtration rate and there's also a TFT display at the rear which shows you the mode and battery status. The G10 also has a continuous mode which eliminates the need of pressing the power button all the time.
Mi Ionic Hair Dryer H300
The next new item is the Mi Ionic Hair Dryer H300 and it appears to be a cheaper alternative to the previous Mi Ionic Hair Dryer. According to Xiaomi, the Hair Dryer H300 is small and lightweight, making it ideal for travelling.
It boasts 1600W of power and an air speed of 20m/s. It also features 7-wing airfoil blades that are designed to reduce energy loss. According to Xiaomi, the Ionic Hair Dryer H300 offers anion protection of 50 million anions to protect hair cuticles and neutralise hair static.
It offers 2 wind levels – strong and gentle win, and 3 heat levels – hot, 57°C consistent wind and cool wind. The hair dryer claims to have a 57°C temperature control technology to prevent hair damage.
The Mi Ionic Hair Dryer H300 is priced at RM129 in Malaysia and it will be available from 13 March 2021. You can buy it on the official Xiaomi official store on Lazada and Shopee, and offline at authorised Mi Stores and retailers.
Mi 360 Home Security Camera 2K
Barely two weeks after introducing the Mi 360 Home Security Camera 2K Pro, Xiaomi has released yet another smart security camera that can record at 2K resolution. This is the new Mi 360 Home Security Camera 2K and it's priced at RM189, which is RM30 cheaper than the Pro version.
Similar to the 2K Pro version, it can record 2K videos in 2304×1296 pixels resolution. The dual motor allows the camera to rotate 360° horizontal and 108° vertical, which is a slightly lower than the Pro model. In low light situations, it also has a 940nm infrared LED which allows you to record in the dark in full colour.
The smart security camera as AI-assisted human detection and it offers a 7-day rolling cloud storage, which allows you to store motion-triggered video clips for a week. To keep a local copy, you can add-on an optional microSD card and it supports up to 32GB.
The camera connects via WiFi up to 802.11ac and it also has Bluetooth 4.2 connectivity. The camera is powered by USB and it comes with a microUSB port at the rear. You can view your video playback and live view on an app that's available on both Android and iOS devices.
If you're interested, you can order it from the official Xiaomi store on Shopee or at all authorised Mi Stores and retail outlets in Malaysia, from 13th March 2021.